Be part of our interconnection story
DE-CIX gehört als Betreiber des weltgrößten Internetknotens in Frankfurt am Main zu den Pionieren der digitalen Welt – in Deutschland sowie an unseren mehr als 20 Standorten rund um den Globus. "We make interconnection easy – Anywhere!" bedeutet für uns, dass wir überall dort zu finden sind, wo unsere Kunden auf eine schnelle, sichere und zuverlässige IT-Infrastruktur vertrauen.
Unsere Teams bilden dabei das Rückgrat der Erfolgsgeschichte, die wir 2020 in das 25. Jahr führen. Denn ohne die Erfahrung, das Wissen und die Leidenschaft unserer Mitarbeiter*innen wäre DE-CIX nicht das, was es heute ist – einer der entscheidenden Treiber der Digitalisierung in Deutschland und der Welt.
Wir sind immer auf der Suche nach neuen Teammitgliedern. Teilen Sie unseren Enthusiasmus für "interconnection at its best" und möchten Sie zum weiteren DE-CIX Erfolg einen wertvollen Beitrag leisten? Wir freuen uns, von Ihnen zu hören!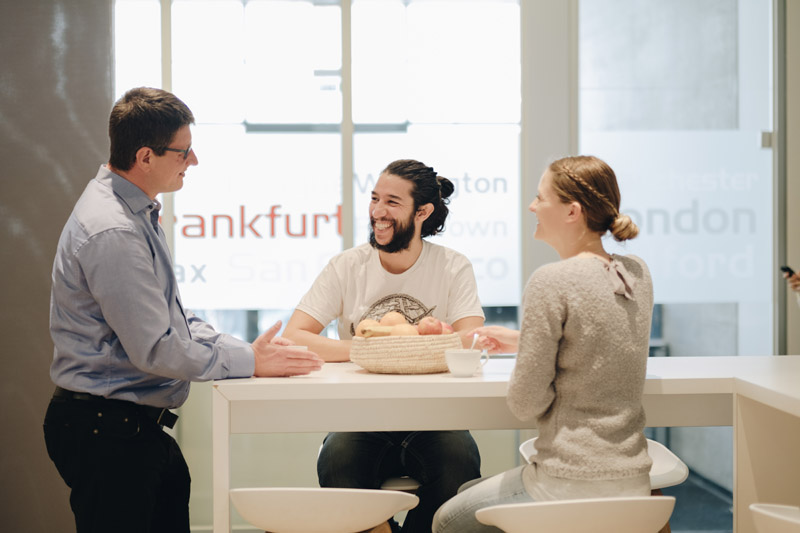 Es ist unsere Leidenschaft und unser Antrieb, technische Innovationen voranzutreiben und den Menschen weltweit das bestmögliche Internet zu bieten.
DE-CIX arbeitet direkt am Herzen des Internets – schlägt dieses Herz auch bei Ihnen? Dann bewerben Sie sich auf unsere ausgeschriebenen Stellen oder senden Sie eine Initiativbewerbung.
We're still hiring. Trotz der Corona-Pandemie sind wir auf Wachstumskurs und stellen - Corona-konform - neue Mitarbeiter ein. Wir freuen uns auf Ihre Bewerbung!