27 September 2022
DE-CIX wins at the Adigital Awards for Madrid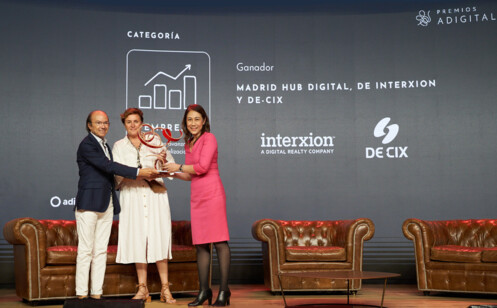 Last week, Adigital, the Spanish Digital Economy Association, presented the Adigital Awards recognizing the work and efforts of entities and initiatives that strive to improve the Spanish economy and society through technology. The awards are part of an OutThink 2030 program which aims to create a more innovative, competitive, and sustainable economic model by 2030.
We are happy to announce that DE-CIX, together with our partner Interxion, won in the enterprise category honoring companies that have stood out for their capacity for innovation and integration of technologies. Our work in Spain aims to position Madrid and, by extension, the Iberian Peninsula as a digital hub in Europe. The jury was impressed by the capacity of this project to attract investment, an ecosystem, and capacities in the world of data.
Congratulations to the DE-CIX Southern Europe team for developing Madrid to become an important digital hub!
The data traffic also supports the importance of Southern Europe: Our exchanges there have seen several record peaks since the start of 2020 – including Madrid crossing the 1 Tbps line for the first time earlier this month. All in all, the data throughput at DE-CIX Madrid has increased almost by 140% since beginning of 2020 and compared to this time last year, the peak traffic has risen by close to 70%.