20 October 2022
The best Internet Exchange provider – DE-CIX wins at Global Carrier Awards 2022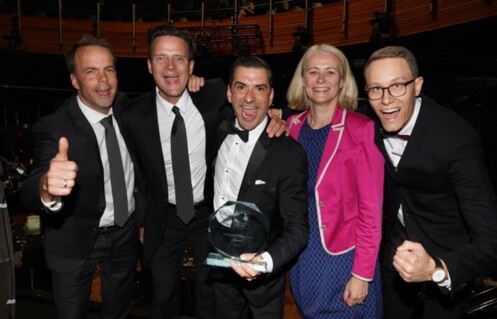 We are happy to announce that we have been honored for the seventh time at the Capacity Awards as the Best Internet Exchange provider! The award was presented last night at the Global Carrier Awards ceremony during Capacity Europe 2022, Europe's largest annual meeting for the global carrier community, in London.
With almost 300 submissions, 96 shortlisted entries in 5 categories, the Global Carrier Awards continue to be a true mark of excellence across the global data center and carrier market. The awards are judged by a panel of telecoms analysts, industry experts, and the senior editorial team of the Capacity magazine.
At the forefront of IX development
We have always been at the forefront of Internet Exchange development, not only in regards to peak traffic and connected networks numbers, but also in regards to developing the platform and launching new services. In addition to introducing the first automated patch robots at an IX worldwide, DE-CIX was the first IX to offer 400GE access technology, and is now again with 800GE. This year's award recognizes once again DE-CIX's outstanding position as an interconnection provider.
Thank you to our partners, customers, and the DE-CIX team
We would like to say a big thank you to our customers and partners for their trust and support, as well as our amazing DE-CIX team! All of you have helped to make DE-CIX one of the leading Internet Exchanges in the world and home to the largest neutral interconnection ecosystem in the world.