21 September 2023
15 Tbps – new traffic record at DE-CIX Frankfurt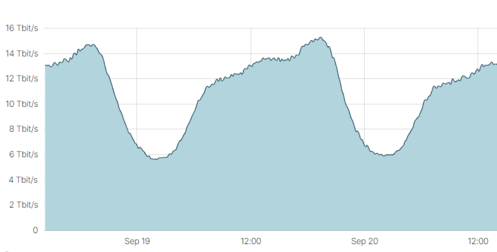 On Wednesday night DE-CIX Frankfurt crossed the 15 Terabits per second (Tbps) line for the first time and set a new traffic record of 15.29 Tbps.*
Compared to 2022 when Frankfurt broke the 11, 12, 13, and 14 Tbps barriers, 2023 so far has not seen so many peaks. But in total, the data traffic has increased by almost 40% since the beginning of 2022 – and by 150% over the last five years.
Real life events behind the peaks
As we have also seen previously, football (soccer) has a big impact on data traffic and the peak on Wednesday happened in parallel to the start of the UEFA Champions League season. The new iOS release this week might have also han impact on the data traffic.
15 Tbps is equivalent to over 5 million HD videos streamed simultaneously. In the analog world, if one bit equaled one milliliter of water, 15 Tbpswould fill 400 Olympic-sized swimming pools every second.
Regular capacity increases
The peaks during real-life events show how much different areas of life are becoming digitalized. Whether at work with video conferencing or at play streaming sports events or gaming, digital services have become an indispensable part of our everyday life.
To be prepared for this immense flood of data, we regularly increase our capacities at DE-CIX.
--
Edit: OnThursday night we had another peak of 15.37 Tbps